Embroidery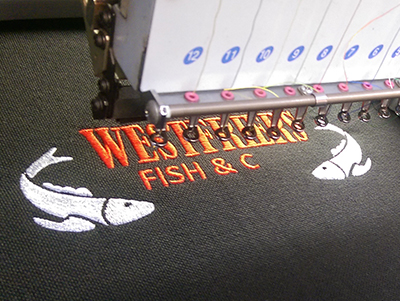 First Avenue Supplies Ltd specialise in embroidered clothing of all types.  All embroidery is carried out on our own machinery on site in Milton Keynes. We are confident that we offer the fastest turn around on embroidered clothing in Milton Keynes and also embroider as little as one garment- we have no minimum order on any form of embroidery.
First Avenue Supplies initially spent many years of supplying clothing only while learning the workings of an embroidery machine, the level of local demand and finding out what local industry wanted.  Staff members were professionally trained in preparation for purchasing our own machinery and bringing it in house. In 2012 we bought our first embroidery machine and quickly out grew it before adding a second machine in 2013. Within another year a third machine was bought, this time a four head machine which again was quickly out grown and swapped with a six head machine. In a very small space of time we've been pleased to see this huge amount of growth and alot of positive changes all helping us to continue to provide a fast efficient service to our regular customers.
The most cost effective way to purchase embroidered clothing from First Avenue Supplies is to buy your clothing and embroidery as a package through us and that way we can ensure the best pricing structure and turn around available. If you already have clothing and would like us to supply just the embroidery service onto your own supplied garments then we are certainly more than happy to do this at an increased price to cover our machine time.
Also within our on site production area we have a print facility where designs can be printed onto clothing through heat transfer. Embroidery is a more permanent, professional way of personalising a garment and in most cases has no real reason to be more expensive than printing. This is something we are always keen to promote but printing does have its place and is something we still work on and are constantly growing.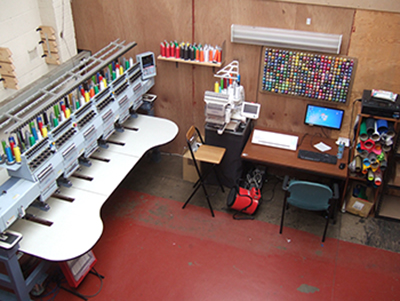 You will notice within our website there is no break down of pricing for embroidered clothing. This is because it is a custom service, no logo is the same and we produce the garments to your individual preference. We can embroider logos in multiple positions on garments the most common being the left breast but we are also often asked for embroidery placed big on the back, on the right breast and on the arms. Please give us a call or send us an email and we will be happy to provide you with a price for your individual requirements.
With personalised garments an item supplied with the wrong design is no good to you and it's no good to us either. It's extremely important to make sure you're happy with the design before committing to any clothing. Computer generated proofs are just that- computer generated and not a replication of an embroidered design. This is why at First Avenue for no added cost a sample of your logo is run off the machine and passed onto you to view before needing to part with any money for clothing.  This means no nasty surprises when receiving your completed order.